Project Dilemma: Recognizing the Greatest Generation
Southwestern Pennsylvania is a region fully respectful of its heritage. The World War II Memorial shares its North Shore home, for example, with the Roberto Clemente, Andy Warhol and Rachel Carson Bridges. And its immediate Great Lawn Park neighbors include memorials recognizing Korean and Vietnam War veterans and fallen law enforcement officers. Also nearby are statues of Fred Rogers, the children's television pioneer and an area native, and Pittsburgh Steelers founder Art Rooney, who lived much of his life just blocks away.
Noticeably missing from these iconic references, however, was any focused tribute to the memory of the generation of veterans who served – and others who supported their service – during World War II. Perhaps the oversight resulted from a "been-there, done-that" attitude generated by the number of honor rolls and similar installations that appeared in virtually every neighborhood and municipality following the conflict. But whatever the reason, the presence of a remembrance of suitable stature was surely overdue. And for a committed band of veterans and its assembled supported team, the need to remedy its absence became nothing short of a sacred mission.
Design Concept: Celebrating the Region's War Contributions
Realizing that the first formal memorial planning meeting in 2001 was occurring six full decades after America's direct involvement in the war, the design team promptly concluded that the memorial must include a strong educational component. That requirement is a core concept of the tribute now in place and was met squarely by Design Workshop and The Studio of Larry Kirkland who were chosen during the national design competition. The memorial's deliberate position on axis to the fountain at Pittsburgh's iconic Point State Park – the actual downtown confluence of its three rivers – enables visitors to look beyond the war images immediately before them and to view the city that was virtually reborn when the conflict ended. Specifically, the memorial features glass-enclosed images, framed in steel and granite, of dozens of the region's residents engaged in their wartime activities. Context of their respective roles is provided by texts contained on 16 granite panels citing experiences as varied as Medal-of-Honor heroism and the workaday world of defense production. Eight other text panels are devoted to accounts of events that shaped the region, led to the war and triggered its outcome.
Design Outcome: Lasting Legacy
The memorial is significant for Southwestern Pennsylvania and Pittsburgh because during the war, brave men and women departed from Pittsburgh's riverfront to defeat the threats of world tyranny.The city skyline in the distance symbolizes the region's industries, workers and everyday citizens of this generation that, through perseverance and sacrifice, supported the war effort. Since its dedication in 2013, the memorial has become the newest civic attraction with an estimated 50,000 annual visitors and it plays a significant role in renewing the spirit of service, honor and love of country that earned this era of citizens the title of the Greatest Generation.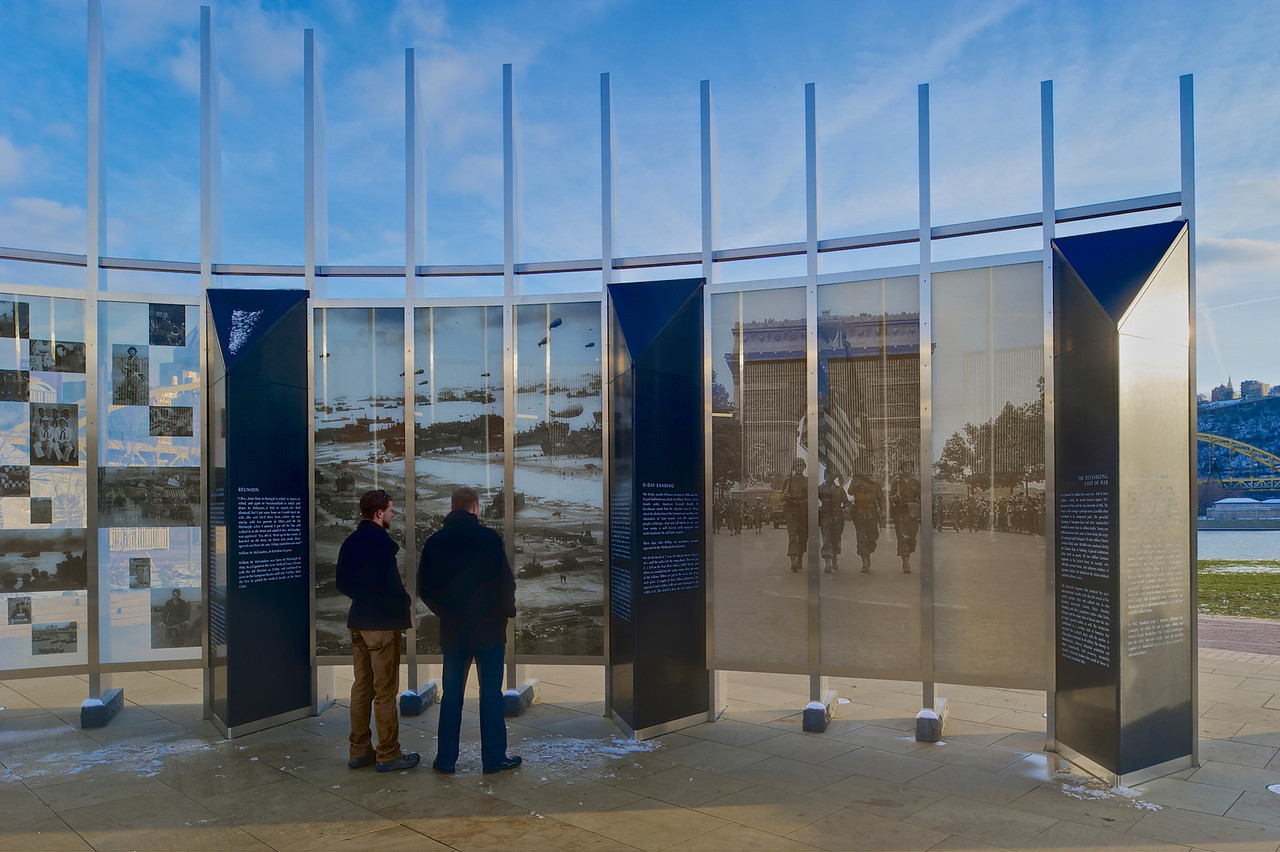 Additional Project Credits:
Client: Southwestern Pennsylvania World War II Veterans Fund – Pittsburgh, PA
Owner: Sports & Exhibition Authority – Pittsburgh, PA
Legal Counsel: Leech Tishman Fuscaldo & Lampl – Pittsburgh, PA
Design Team:
Landscape Architect: Design Workshop, Inc. – Denver, CO
Artist: The Studio of Larry Kirkland – Washington, D.C.
Art Liaison: Carol Siegel Art Services – Pittsburgh, PA
Lighting Design: Hilbish McGee Lighting Design– Pittsburgh, PA
Structural Engineer: Martin/ Martin, Inc. – Lakewood, CO
Local Landscape Architect: LaQuatra Bonci Associates – Pittsburgh, PA
Civil Engineer and Geotechnical: Gateway Engineers – Pittsburgh, PA
Electrical Engineer: Carlins Consulting – Pittsburgh, PA
Irrigation Design: W3C Design – Pittsburgh, PA
Lightning Protection: Ace Lightning Protection – Pittsburgh, PA
Survey: Gibson-Thomas Engineering – Pittsburgh, PA
Historian: Bruce Janacek – Chicago, Il
Writer: Bill Stewart
Editors: Bill Stewart, Joy Hakim, Janet Hulstrand
Photo Researchers: Mary Baron, Sheila Conley, Theresa Rea, Lindsay Mattock
Graphics: Wood Ronsaville Harlin, Inc. – Annapolis, MA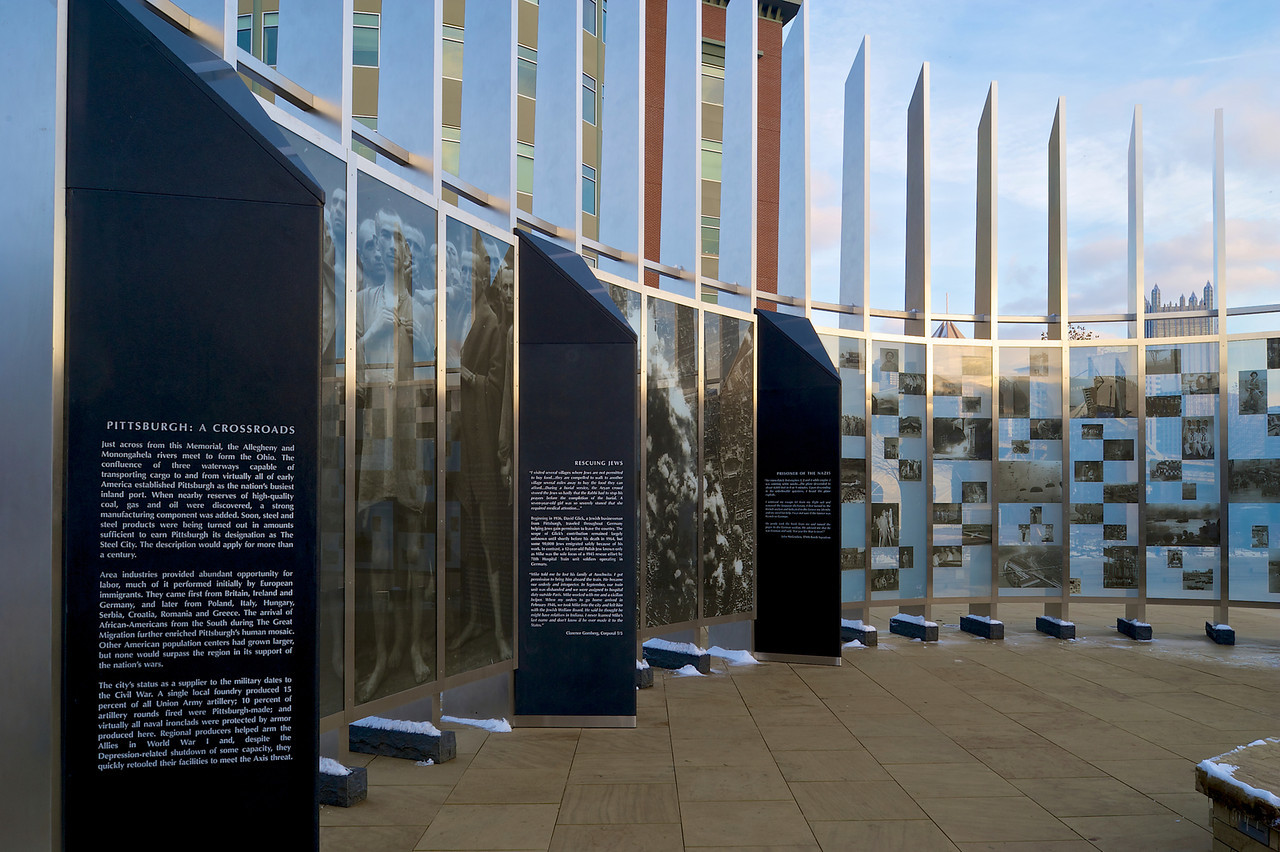 Contractor and Fabrication Team:
Construction Manager: Mascaro Construction Co., L.P. – Pittsburgh, PA
General Trades: Allegheny Construction Group, Inc. – Bridgeville, PA
Stainless Steel: Bunting Graphics, Inc. – Verona, PA
Glass: General Glass International – Secaucus, NJ
Masonry: Harris Masonry, Inc. – Pittsburgh, PA
Granite and Engraving: Elite Granite and Marble – Hillsboro, OR
Engraving Detailer: The Design Studio– Pittsburgh, PA
Electrical: Scalise Industries, Inc, – Lawrence, PA
Landscape and Irrigation: Butler Landscaping – Pittsburgh, PA
Lightning Protection: Ace Lightning Protection, Inc. – Pittsburgh, PA
Bronze work: Matthews International Co., Bronze Division – Pittsburgh, PA
All photographs of the memorial on this website (C) Craig Collins.