In Belated Tribute: The Southwestern Pennsylvania World War II Memorial
Project Narrative
Proposed by an ad hoc group of prominent veterans and supported by the site-selections efforts of then Pittsburgh mayor Tom Murphy, a 2001 national art competition marked the formal start of plans to commission a memorial saluting the extensive and varied contributions of southwestern Pennsylvania men and women to the war's victorious outcome in 1945. Spanning 13 years of fundraising, redesigns which resulted from the loss of two project sites, and numerous other challenges, the $4.6 million installation was completed and dedicated during the region's 2013 Pearl Harbor rememberance weekend. The event was attended by veterans of each of the 14 area counties the structure was designed to honor.
Participation in the global conflict by southwestern Pennsylvania residents was comprehensive and unique. Few families escaped direct involvement in the war. Either in military uniform or employment in a defense industry, their members' stories resonate throughout the Memorial, ranging from battlefield letters to accounts of unmatched industrial production. A text panel authored by historian and native Pittsburgher David McCullough reads, "At night, the sky pulsed red; blast furnaces were working day and night. Pittsburgh was making steel, aluminum, glass, landing crafts and Jeeps. We were all proud; we knew Pittsburgh was helping to win the war."
Returning to its peacetime functions after the war's close, the city's leaders formed an Allegheny Conference and charged it with the mission of improving the quality of life of an entire region. Addressing the byproudcts of industrial might, foul air was cleared, polluted rivers cleaned, and river banks converted to parks and office use. Termed a Renaissance by its sponsors, the outcome of Pittsburgh's effort served as the national standard for effective urban renewal for more than a generation.
Civic Pride
Southwestern Pennsylvania is a region respectful of its heritage. The new World War II Memorial shares its North Shore home with the Roberto Clemente, Andy Warhol, and Rachel Carson bridges. Great Lawn park neighbors include memorials recognizing the Korean and Vietnam War veterans, and fallen law enforcement officers. Nearby are statues of Fred Rogers, the children's television pioneer and area native, and Pittsburgh Steelers founder Art Rooney, who lived much of his life just blocks away.
Noticeably missing from these iconic references, however, was any focused tribute to the memory of the generation of veterans who served, and others who supported their service during World War II. The presence of a rememberance of suitable size and scope was surely overdue. For a committed band of veterans and its assembled team, the need to remedy its absence became nothing short of a sacred mission.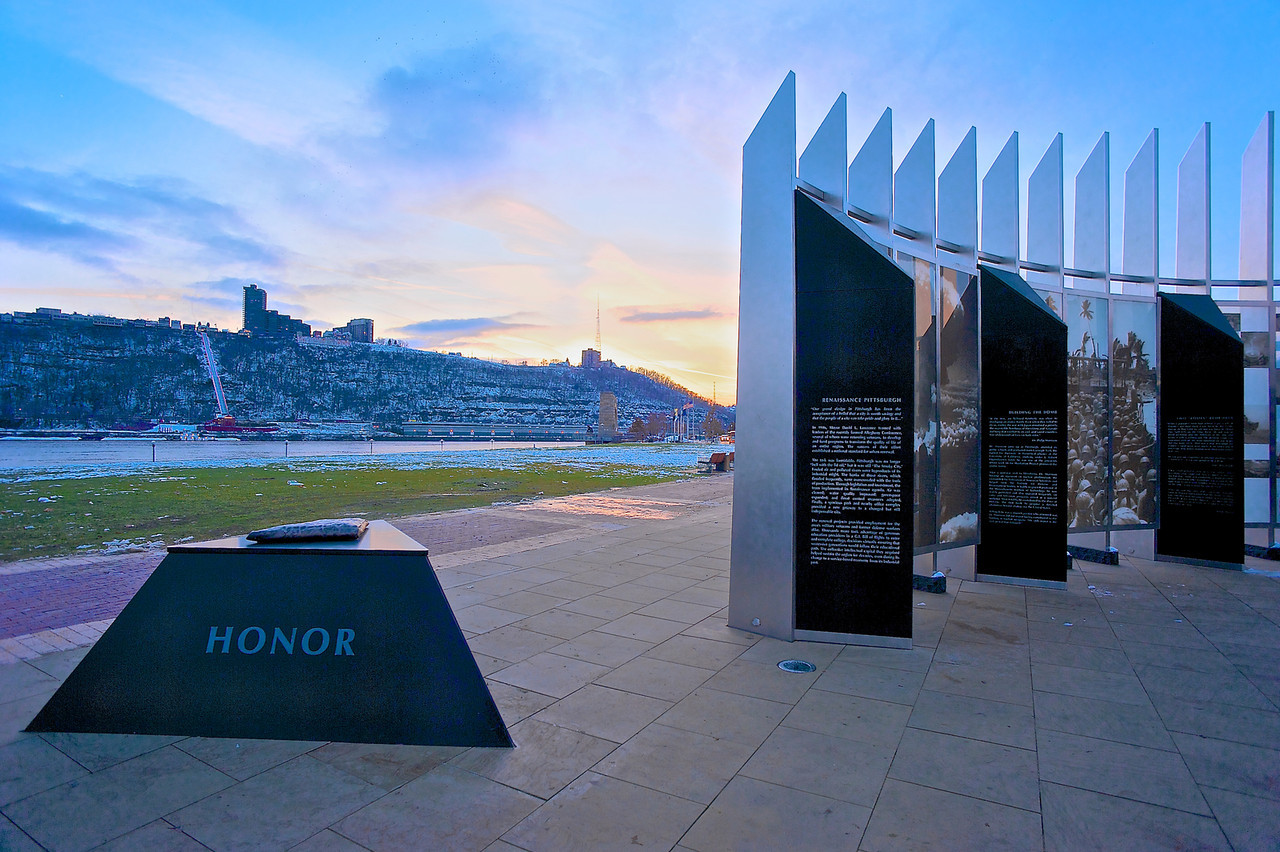 Concept
Realizing that their first formal meeting was occurring six decades after America's direct involvement in the war, Memorial planners promptly concluded that the structure should include a strong educational component. That requirement was met by the world renowned artist and architectural team chosen during teh design competition and is a core concept of the tribute now in place. Spefically, the structure features glass-enclosed images, framed in steel and granite, of dozens of the region's residents engaged in their wartime activities. Context of their respective roles is provided by texts engraved on 16 granite panels citing experiences as varied as Medal of Honor heroism and the workaday world of defense production. Eight other text panels are devoted to accounts of events that shaped the region, led to the war, and described its outcome.
Design
Located in the Great Lawn Park on the North Shore of the Allegheny River as it nears the Ohio, the elliptically shaped Memorial's 52 stainless steel spires rise from 14 and one-half to 27 feet from a palette of regionally sourced sandstone and plant materials. Visitors entering the site through north and south gaps in its steel and glass enclosure are greeted by bronze installations, one containing appropriate title and service branch data and the other serving as a flag base for a folded flag and the words, Duty, Honor, Country. Two stone benches within the enclosure offer visitors opportunities to rest and contemplate the gravity and impact of the Memorial's message and purpose. The structure's deliberate position on axis from the fountain at Pittsburgh's iconic Point State Park enables visitors to look beyond the war images and view the city that was reborn when the conflict ended.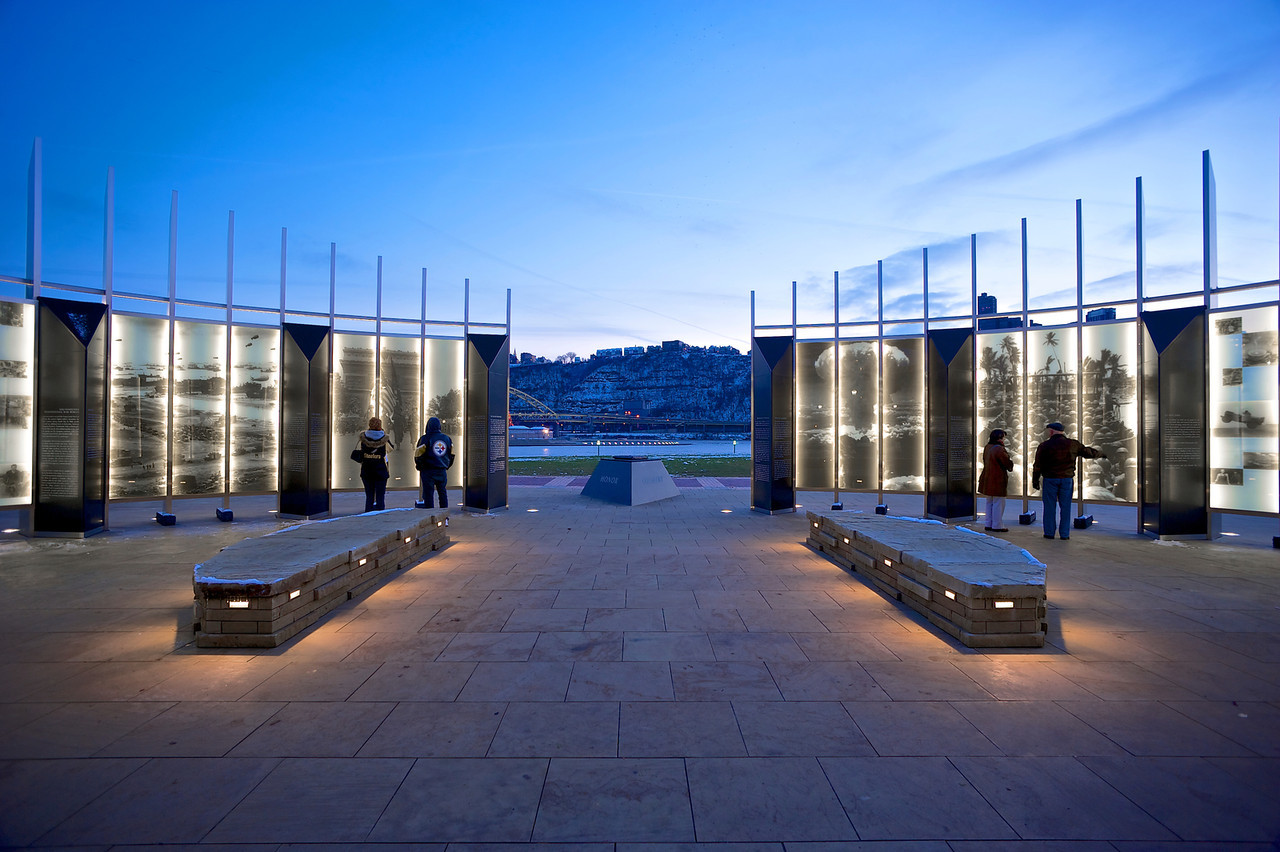 Narratives and Images
Prologue: Four stone panels at the north entry contain text describing world conditions as the war began, and a companion narrative reporting Pittsburgh's industrial role as an "arsenal of democracy" throughout America's military history.
Didactic Stores: Sixteen interior text panels contain wartime stories of area individuals and groups that present a comprehensive account both of the war's impact on the region, and in turn, the region's contributions to its outcome.
Epilogue: Text information at the south entry deals with war-ending events, estimates of lives lost and damages to world order. It also details the post-war measures undertaken by Pittsburgh leaders that would improve the quality of life in region for generations to come.
Large and smaller glass-enclosed images complete the Memorial's presentation of wartive activity. Iconic three-panel photographs frame the collection to depict the scale of the struggle; 14 glass panels on each side contain collages of Southwestern Pennsylvania residents engaged in their military of civilian roles.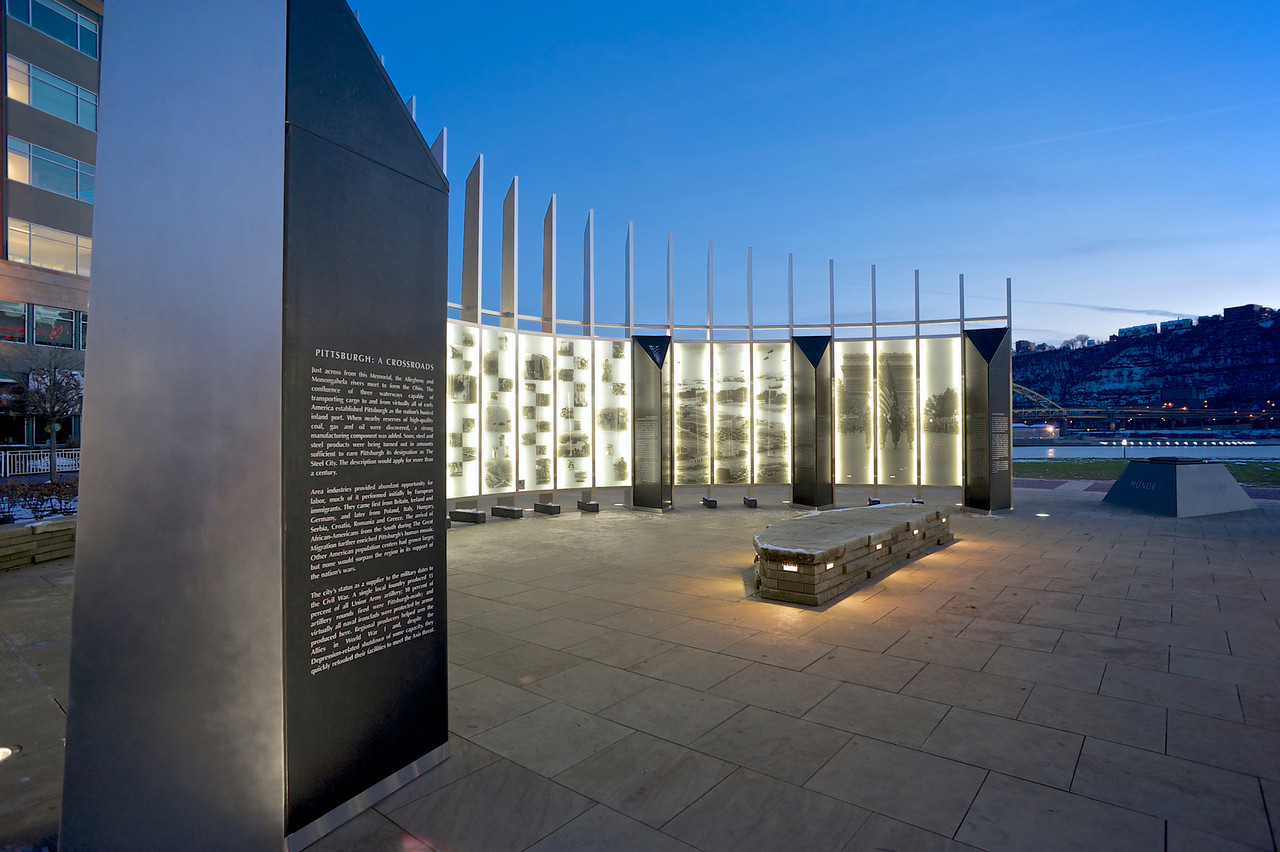 Numbers that Matter:
100% of milled and melted steel was manufactored in the USA.
150 miles to the quarry where the sandstone pavers were sourced and manufactured.
33% reduction in bluegrass turf; corresponding to a decrease in water usage.
12% increase in site shaded area.
26 WWII veterans served on the Memorial Fund Committee.
250 people engaged during a 13 year design and construction cycle.
50,000 annual visitors to the Memorial.

Wacth Larry Kirkland's artist talk to learn more about the process designing this memorial:

https://www.youtube.com/watch?v=2BjDxEaqujA
To see the memorial's commemoration celebration, please click on the link below: